Structural Steel Detailing Services
Comprehensive & quality structural steel detailing services
with the most competitive pricing in the US.
Our decades of experience ensures exceptional service. We leverage the latest software and technology to deliver precise, efficient solutions. Connect with our expert team and discover a service that goes beyond your expectations!
Fast, Accurate, Affordable
Accelerate your schedule to allow fabricators, contractors, and designers to begin working with engineers earlier in the project lifecycle.
Errors are more easily identified before final documents are printed, reducing change orders.
Work can begin prior to final contracts, potentially eliminating weeks from your schedule.

This also allows the first sequence to be ready for fabrication before hiring fabricators.

Reduce the costs of steel, fabrication, and wasted time.
Latest Technology & Software
Get a competitive quote in 24 hours or less:
Download a sample of our Steel Detailing and Erection Sheets
Extensive Steel Detailing, including Cylindrical Structures: Zug Island Boiler
Using SDS2 software, PMC modelers created a 3D model of an existing cylindrical structure and its components based on measurements provided by the customers on-site engineer. The model was used to ensure accurate final fabrication details, and precision shop drawings were created for construction. With the detailed models and drafts, the client upgraded their equipment by adding steel beams and columns, stairs and handrails, ladders and safety ladder cages, allowances for pipes, platforms, and specified fasteners based on on-site engineers' requirements...
University of Michigan Steel Detailing Construction Rendering
In the University of Michigan's efforts to remove outdated infrastructure, a 3-story boiler was removed from one of the campus buildings. This left a large hole in the structure that needed to be filled to create walkable floors for storage and new energy options. To create new floors, new concrete and steel beams would need to be added to the structure. PMC was commissioned to provide steel detailing drawings of the space to construction engineers. PMC facilitated the technical steel detailing drawings utilizing existing blueprints, point cloud technology acquired by FARO Laser Scanners, Faro WebShare, and SDS2…
Early Steel Detailing Process
Input data using SDS2 / Revit

First Check of model

Convert to deliverable plans

Second Check

Send drawings for approval

Paper Check while waiting for approval

Complete package combining approval and QC is sent

Fourth Check and QC
Each PMC steel detailer has at least seven years' experience and are constantly learning new tactics. At PMC we believe that the quality of our work is linked to the individuals we hire. is skilled in state-of-the-art software and provides suggestions for time and money saving alterations to current construction.
Steel Detailing Services/Capabilities
Stair Plan and Elevations

Assembly Drawings

Beams Drawing

Columns Drawing

Anchor Bolt Drawing

Template Drawing

Handrails & Guard Rails Drawings
Ladders Drawing

Stair Stringers Drawings

Deck & Grating Assembly Drawing

Bracings Drawing

Part Drawings

Columns Drawing

Shop / Fabrication Drawings
Structural Steel Detailing

Erection drawings

Anchor Bolt Plan Drawing

Anchor Bolt Details Drawing

Erection & Framing Plan Drawings

Frame Elevation Drawing

Enlarge Details & Sections Drawing
Quality Policy
PMC's goal is to be a top steel detailing provider. We only employ highly skilled individuals to ensure our clients receive the highest level of service. Our quality control meets all the requirements of the National Institute of Steel Detailing Quality Procedures Program Certification including NISD, QPP, and AISC.
PMC is a fully insured, US-based company.
Modular Structures

Industrial Structures

Commercial Buildings

Towers

Institutional Buildings

Residential Buildings

Foundation Structures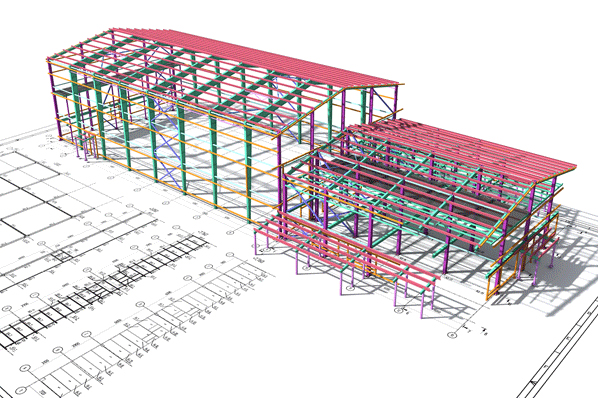 Markets that Benefit from Steel Detailing Services
Architecture

Engineering

Construction

Industrial Manufacturing

Power and Utilities

Refineries

Sporting Event Centers

Commercial Structures

Multi-residential Structures

Bridge Construction

Aerospace and Airports

Automotive Manufacturing